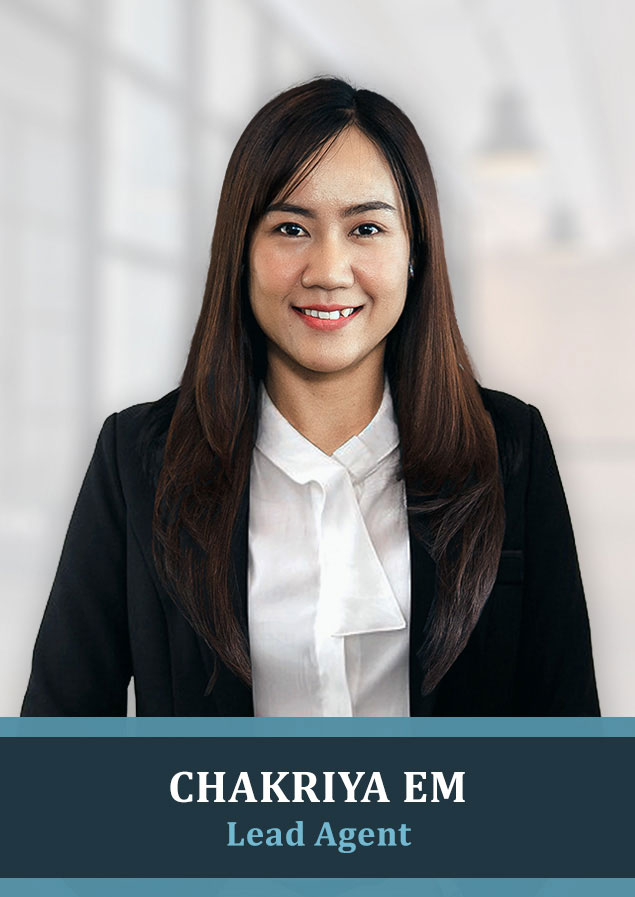 Chakriya Em
Lead Agent
As a sales team member since 2018, Chakriya has been instrumental in driving our sales growth, in both commercial and residential market. She's had a very successful track record and had built outstanding client relationships, which earned her a higher and new position as Head of Borey in 2021.
Assuming this new role, Chakriya promised to continue the growth of strong sales, this time in Borey market. She's now building a great foundation of the new IPS Borey team where she's responsible for developing winning strategies with the marketing team and finding prime Borey developments to help families find their dream home, as well as provide success to every landlord and developer.
Chakriya brings an extensive experience and market knowledge to this new role, together with her Bachelor's Degree in Accounting from the University of Management and Economics.
"Riya from IPS was referred to me by a friend and it didn't take me to find out that she is reliable, efficient, and fast! Instead of showing me a long list of apartments, she quickly sized up my needs and preferences and I was able to sign the lease for my preferred apartment in good time. Would strongly recommend Riya for her language ability (conversant in English), ability to size up what customers want, and professionalism in terms of her attention to detail and speed in responding to questions and resolving issues"
As Cambodia's foremost real estate company, IPS has grown quickly in its eight years of operation and now has two strategically placed offices in Cambodia's strongest business districts of Phnom Penh, Siem Reap and Sihanoukville. Find out why IPS is a force in the Cambodia real estate market.
For up-to-date information, advice on real estate and practical information on Cambodia's thriving property and lifestyle environment, visit the IPS blog. Or you can also stay connected with our real estate experts and featured properties by following our official Facebook Page and our dedicated Siem Reap page.
Ask Chakriya a question: